---
Beer on Draft:
Niagara Lager – 5 % ABV – 18 IBU – 2 SRM – Crisp & clean, with a golden hue. or make it a summer shandy! (one part lemonade).
Red Head Amber Ale – 5.5% ABV – 25 IBU – 12 SRM – Well – balanced malty ale with hints of sweet caramel, represented by a lovely copper-tone.
Porter – 5.9% ABV – 30 IBU – 28.2 SRM A delicious mixture of chocolate and coffee flavors, followed by a smooth delivery.
Woodcock IPA – 6.5% ABV – 60 IBU – 3.7 SRM – An East Coast IPA with a west coast twist! Hoppy & smooth.
Sweet, Sweet Haze – 7.1% ABV – 47.3 IBU – 6.2 SRM – Our American IPA brewed with Mosaic, Citra, and Azacca hops. Beautiful notes of oranges, yellow grapefruit, and tangelo.
Midnight Snow Waves – 6.5% ABV – 7 IBU – SMR PINK – A kettle sour ale with a pleasant mild tartness and bright jammy berry notes from plum and blackberry purees.
Super Dream – 6.1% ABV – 21 IBU – 4.8 SRM – Hazy IPA – Notes of candied melon, dank tropical fruit and citrus. A brand-new yeast from Omega Labs called Cosmic Punch help to amplify all the hoppy goodness.
Phantom Named Kosmo – 7.4% ABV – 29 IBU – 3.5 SRM – Hazy IPA – Our first Hazy IPA using Phantasm powder. The combination of mash hops, phantasm powder and Cosmic Punch yeast unlocks bound thiols otherwise not available to yeast for biotransformation. Look for intense notes of sweet tangerine, papaya, honeydew and white wine.
Autumnal Embers – 6.7% ABV – 20 IBU – 11.5 SRM – Rauchbier – Smoked German Lager. A malt forward German Lager with top notes of beechwood smoked malt and underlying flavors of toasty caramel malts. Balanced with a clean finish.
Devil's Hole 2.0 – 7% ABV – 52 IBU – 30 SRM – Black IPA – Bright, citrusy hops overcast by dark malts with a hint of roast. 2.0 was designed with a balance between the hop bitterness and dark, roasty malts in mind.
And All the Ships at Sea – 8.7% ABV – 35 IBU – 40.8 SRM – Baltic Porter. Smooth dark chocolate with notes of light coffee roast, caramel and toasted malts. Lagered for 3 months to create a rounded, full bodied Baltic Porter. This is a Lager. ** SILVER MEDAL WINNER FOR NYS **
Beers of the Week on Draft ($4) and $10 Crowlers:
Willie – The Wet Hop Ale – 5.4% ABV – 35 IBU – 10 SRM- This year's wet hop ale features Cascade Hops. These hops were freshly harvested from Pedersen Farms which is located in the Central Finger Lakes region of upstate New York. This wet hopped pale ale delivers fresh floral notes with grapefruit and it rounds out with caramel malts. Some serious hop flavors and aromas in this limited release ale.
Stiff Mitten – 7.2% ABV – 22 IBU – 14 SRM – Our seasonal winter ale is brewed with cinnamon, ginger, allspice and nutmeg. It's designed to impart those classic holiday flavors without bludgeoning your tongue with too much spice. A drinkable, delicious, classic style winter warmer designed to bring the warmth of the holiday season from our family owned brewery to your glass.
Can Pours

:
Sky Dancer – 4.6% ABV – 28 IBU – 3.7 SRM – Like a Sky Dancer Woodcock bird flying over a shoreline at dusk, this unique session IPA sings with the bright citrusy flavor of lemon peel, grapefruit and orange zest. Bright citrus with soft tropical fruit. It's mild bitterness and easy drinkability make this the perfect beer to enjoy while under a beautiful sunset. Brewed with Citra, Mosaic and Simcoe hops. *NYS Craft Beer Competition silver medal winner* (Can pours only)
---
Premium Draft Hard Cider – Blackbird Cider Works (Barker, NY) – 7.3% ABV – A semi-sweet draft cider with subtle carbonation, apple and honey notes. Sparkling Cider. $7
---
Beer Flights – Take a flight and explore! Choose 6 different brews – $14
---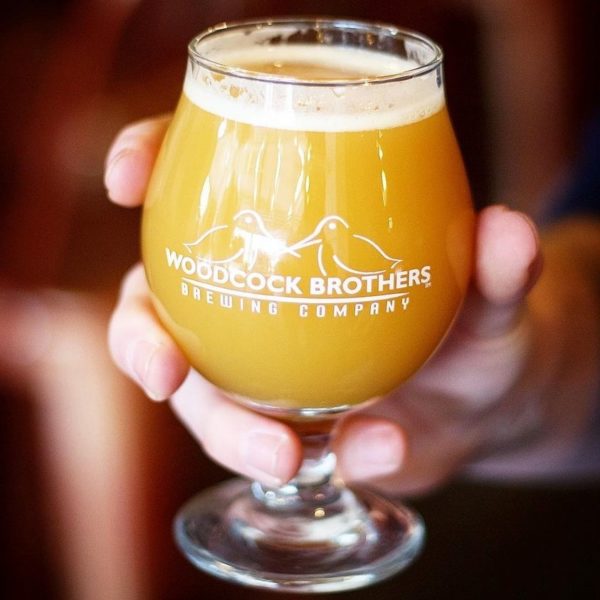 ---
To – Go Beer
4- Packs
Niagara Lager $9
Red Head Amber Ale $9
Woodcock IPA – $11
Sky Dancer – $11
Sweet, Sweet Haze $11
Porter $9
---
Crowlers
We have 32 oz. crowlers to – go!
Any beer on tap – Buy 2 crowlers, get 1 HALF OFF!